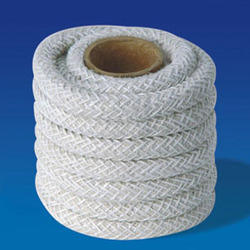 Asbestos Lagging Rope
Product Code : Asbestos Lagging Rope
Product Description
We are one of the leading manufacturers and distributors of Asbestos Lagging Rope.
A low density untwisted Asbestos Fiber lagging is held together by a wide braided net of thin Asbestos yarn.
Sizes
: 12.5 mm, 16 mm, 19 mm, 22 mm, 25 mm, 32 mm, 38 mm, 45 mm and 51 mm.
Packing
: In 30 meter long coils
Applications
:
Most suitable for steam insulation.
Used for covering steam pipe lines, hot water pipes and exhausts of marine boilers and power plants. Its application is very simple. Easy to wrap on pipe and itself providing a primary insulation.
Contact Us
No. A-19, Shree Ghantakarna Mahavir Comm. Market, Sarangpur, Ahmedabad, Gujarat, 380002, India
Phone :+917042682946